So You're Engaged... Now What?
Since November 7, 2015 I have been basking in my newly engaged-ness (if that's such a thing). It's been a wonderful time of love and happiness, but heads up... it's surprisingly not as simple as planning a pinterest wedding! (Sorry, ladies.) I had a bit of a jump on planning before the holiday proposal boom, but for all of those who have been engaged less than a month- it's time to get on it! Here are a few things to do within one to two months after getting engaged (with roughly 10-12 months until the big day)...
1. Decide on a Budget
Before anything else, be realistic about how much can go into the wedding. Figure out who will be paying for it, if anyone else is helping out, and what you can afford. Remember that a wedding is one day but a marriage is a lifetime, so decide if going into debt is worth it!
This one was simple for me. I would rather have an amazing honeymoon and start out my marriage without being in debt, so my budget is not huge! I plan on a lot of DIY, an there are certain aspects that aren't as important to me (for example photo and video are hugely important, whereas food hardly matter to me... as long as there is something to eat).
2. Book a Venue
This one is important. Dates fill up fast, and the rest of the wedding relies on this main detail. Once the venue is locked down, all the other details will fall into place.
For me, this was a big cause of stress. Many venues require you to use their caterer, some have massive food and beverage minimums, and others were too ordinary for me! The first place I saw ended up being the one! It has amazing ocean views, has an indoor reception area that doesn't feel like a ballroom, and I can bring my own alcohol! The manager on site has been extremely responsive and helpful, which was also a large factor in choosing my venue.
3. Decide on a Bridal Party and Send out Bridesmaid Proposals
This part was so fun for me! I went online to
zazzle.com
(affiliate link) to pick out some amazing cards. They were customizable, so I was able to write in each bridesmaids names. There were even multiple paper choices! This website is extremely simple and there are often sales going on (like right now you can save 30% with code
SEMIYEARSALE
). There were many other ideas I had, but seeing as all of my bridesmaids are in other states, postage for five large boxes would have been too much (but I'll definitely share those ideas in another post. Stay tuned...)! I chose these cards below, which also matched for flower girl and bridesmaid.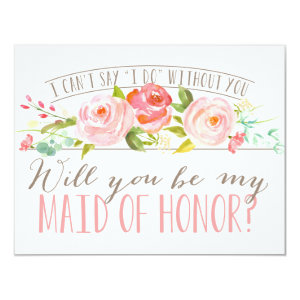 4. Send out Engagement Announcements and Plan an Engagement Party
Both of these are optional, but why not enjoy every minute of being engaged? It only lasts for so long! Personally, I'm way behind on this and it's been two months now. As a general rule of thumb, only send out engagement announcements and engagement party invites to who will be invited to the wedding. A general Facebook announcement also works for those trying to save on postage!
5. Get a General Idea on What Your Wedding Will Be Like
Colors, theme, style, etc.... Do you want a Sunday brunch or a Friday night sunset ceremony? Banquet hall or beach? Far away or local? Summer or winter? Having a general idea of a wedding plan will help you decide on details such as what style of dress you choose, how expensive it will be (peak season and Saturdays are the most expensive), and how many guests you can invite. Some of these details should've been ironed out when you booked the venue, but not focusing on items such as choosing a color or theme can prevent you from moving further in your planning.
Shop This Post
Here are some amazing white dresses to wear to all bridal functions (engagement party, bridal shower, bachelorette party, rehearsal dinner, etc.)! Some of them are major splurges, but others are completely affordable!