Dressing for Fall (When it Still Feels Like Summer)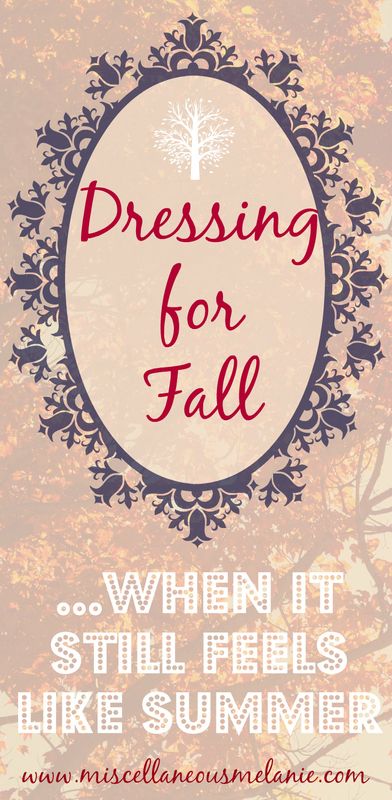 The majority of my life I've lived in cities of eternal summer. Although the weather is a great thing, I really feel like I'm missing out when fall rolls around. When I lived in New York, fall was my favorite time of year. I spent the season apple picking, drinking warm spiced cider, tasting all the hot chocolate the city had to offer, and daydreaming under the turning leaves in Central Park. I want to cry thinking about it because it was 95 degrees today in Southern California... but regardless, I'm going to dress for fall!
Breathable Layering
Fall is a time for layering, and extra heat doesn't have to stop you! Keep the layers light in a breathable fabric (think cotton, not synthetic fabrics like polyester) and be strategic about how the layers will be paired together. A dress, scarf, and boots are great, but jeans, a cardigan, scarf, and boots might be overkill. Also remember, layers are removable if the sun is shining too bright!
Less Weight
I love sweaters more than the next girl, but in an Indian summer sweaters must either be lightweight or sleeveless. As comfortable as it may be in real fall weather, sweating is the opposite of comfort. Embrace those summerweight sweaters! Here are some of my favorite picks.
Breezy Boots
I
love
boots... Probably way too much. In New York I could wear them for more than half of the year (often out of necessity). I still wear them way too much of the year in L.A., despite the often hot temperatures. Like everything else in this post, the more breathable the better! Some of my favorites include fringe, chunky heel booties, and deep, rich colors.
Focus on Accessories
This is where the weather can't dictate my life! Hats block out the sun (rather than the chilly wind), purses show off fall colors, and jewelry adds just the perfect touch. The right accessories and colors will getting you into that pumpkin spice latte mood (iced, of course). Incorporate earth tones and deep jewel tones.
Which are your favorites? Are you lucky enough to enjoy fall and all of its beauty, or do you have to hoard all of the pumpkin goods and pretend the season is changing like me? Happy October, y'all!