Pineapple Madness (& Giveaway!)
Those pineapples, they're so hot right now!
But seriously guys, pineapples are everywhere and I'm loving it! Not only are they one of the tastiest tropical treats (hello pina coladas!) but they make amazing patterns for your summer wardrobe. This season, clothes and accessories from head to toe can be found emblazoned with pineapple prints, and this cheeky trend couldn't make me happier.
Below I've linked tons of my favorites so you can dream a tropical dream and shop til your heart is content. But seriously... what's not to love?
(Also after checking out my faves, scroll down to enter a giveaway to win an awesome pineapple ring!)
How much do you love
this
Lulu's ring pictured below? It's super cute and delicate!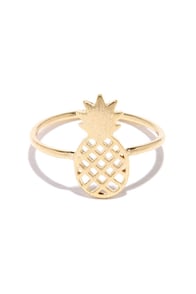 Pine-ing Away Gold Pineapple Ring
from:
Lulus.com

You can win it and it's super simple to enter! Come back each day for more entries and good luck!


**This post contains affiliate links. All opinions (as always) are completely my own. Giveaway is not sponsored by Lulu's or any other company.